1. What is Antivirus PC 2009?
Antivirus PC 2009
unreliable and insecure computer security tool designed for fraudulent purposes. Antivirus PC 2009 behavior is very similar in relation to trusted anti-virus programs, thus even more misleading the user. The main purpose of rogue software is to persuade the victim to purchase a registration key by using various scare tactics.
Right after Antivirus PC 2009 appeared on the machine, automatic computer scan will be started, generating report in the end, which states that malicious objects has been found and urgent help is necessary. The report window is supplemented by the message "Warning! Your system is infected" with an option "Repair Infected", which will result in Antivirus PC 2009 registration window popup, asking to type in the registration key or buy it. Acting on "Buy registration key", user will be taken to the payment page titled "Secure Transaction Processing", which is a bluff and not secure at all to enter any of your credit card data.
The virus names in the report are factious, since computer was clean at the time of Antivirus PC 2009 research, performed by
PCinDanger
.
The following message is displayed as
Windows
System Error
:
Antivirus PC 2009 Warning: Antivirus PC 2009 has detected harmful software in your system. It is strongly recommended to register Antivirus PC 2009 to remove these threats immediately.
2. Antivirus PC 2009 screen shot: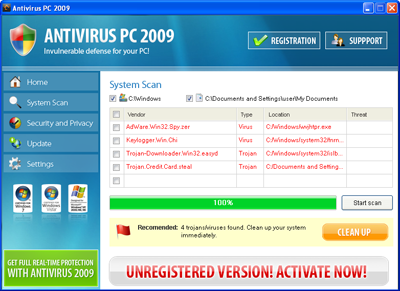 3. How to remove Antivirus PC 2009:
Internet connection might be disabled or Internet browser might be blocked by Antivirus PC 2009, so it won't be possible to download any files to infected computer. In this case please download all files required for Antivirus PC 2009 removal to another computer and then transfer them on the infected one using CD/DVD or USB flash drive.
To remove Antivirus PC 2009 download Spyware Doctor and install the program (for the installation guide click here). Before installation, make sure all other programs and windows are closed.
After the installation, computer scan should be started automatically. If so, please move to the next step. If not, click "Status" on the left side menu and press "Scan Now" button to run computer scanner as shown in the picture below:


After the scan has been completed and scan results have been generated, press "Fix Checked" button to remove Antivirus PC 2009.


Restart the computer to complete Antivirus PC 2009 removal procedure.
4. Antivirus PC 2009 files:
C:\Program Files\Antivirus PC 2009\avpc2009.exe
5. Hijackthis entries:
O4 - HKLM\..\Run: [Antivirus PC 2009] cmd /C cd "C:\Program Files\Antivirus PC 2009" && start avpc2009.exe
O4 - HKCU\..\Run: [Antivirus PC 2009] cmd /C cd "C:\Program Files\Antivirus PC 2009" && start avpc2009.exe