1. What is AntiSpyBoss?
It is known as fake computer security software, that is performing automatic downloads with a help of a trojan. AntiSpyBoss pretends to be PC security program against spyware/virus by imitating computer scan and generating incorrect report in the end that contains absent computer infections. To remove found threats the program will ask to purchase licensed version.
AntiSpyBoss is also known as scareware due to the fact that program alerts user with assumed warnings, purportedly the system is in danger. As AntiSpyBoss falls into rogue security software category, it is not recommended to download, install and use the program for PC defence against malware purposes. If any traces of rogue application has been detected, see our "How to remove" part to remove AntiSpyBoss.
Author:
antispywareboss.com
Infected object alert, that has been dropped by AntiSpyBoss itself: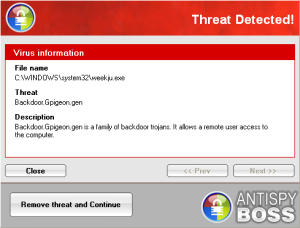 2. AntiSpyBoss screen shot:
3. How to remove AntiSpyBoss:
Internet connection might be disabled or Internet browser might be blocked by AntiSpyBoss, so it won't be possible to download any files to infected computer. In this case please download all files required for AntiSpyBoss removal to another computer and then transfer them on the infected one using CD/DVD or USB flash drive.
To remove AntiSpyBoss download Spyware Doctor and install the program (for the installation guide click here). Before installation, make sure all other programs and windows are closed.
After the installation, computer scan should be started automatically. If so, please move to the next step. If not, click "Status" on the left side menu and press "Scan Now" button to run computer scanner as shown in the picture below:


After the scan has been completed and scan results have been generated, press "Fix Checked" button to remove AntiSpyBoss.


Restart the computer to complete AntiSpyBoss removal procedure.
4. AntiSpyBoss files:
install.exe (setup file), asb32.exe.
The following files are silently created during AntiSpyBoss installation process in order to show user that his computer is infected. Keep in mind that created files can be under different file names!
(located at C:\WINDOWS\system32\) weekju.exe, llisoft.exe, viewzfui.exe, flcuaund.exe, regypat.exe, bhdns.dll.
(located at C:\WINDOWS\) mailavaeg.exe, qmemnvid.exe, patchkb.exe, tblgpreal.exe, encejduu.exe, chgpatch.exe.
(located at C:\Documents and Settings\[username]\Local Settings]\Temp\) regzte.exe, dblpath.exe, holdzxr.exe, wuswap.exe, conftiep.exe, zknnydel.exe, utilxxq.exe
5. Hijackthis entries:
O4 - HKLM\..\Run: [AntiSpyBoss] C:\Program Files\AntiSpyBoss\asb32.exe